Tuesday 26th May 2020
See all the major changes taking place in these volatile times in one convenient place on CMDportal. We summarise all the headline changes in Euro Commercial Paper below to keep you up to speed.
ECP market hits its lowest point since January

Outstanding ECP has continued to fall following the April rebound. The market has dropped to the lowest level since 14 January as another EUR8.8bn weekly decline took place. A withdrawal from ECP by SSA borrowers in recent weeks has removed some of the support in the market as banks remain in freefall and ABCP is on the downswing. Corporate borrowing is the only sector where outstandings are still elevated, where central bank support is focused.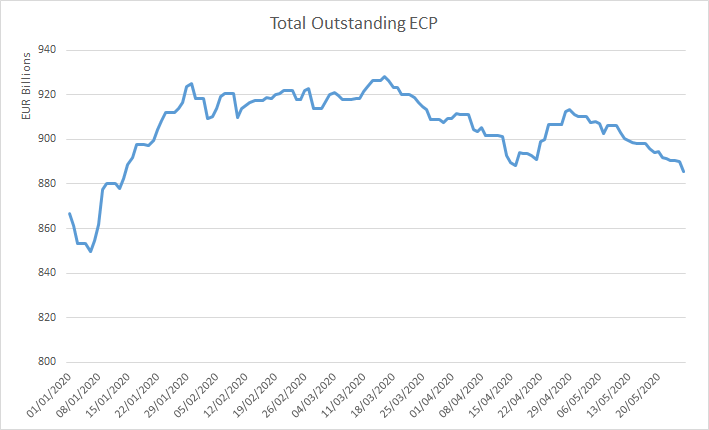 USD takes biggest hit in outflows

USD outstandings have fallen most significantly, dropping by EUR8.8bn, or 2%, over the last week. This brings the monthly drop in outstandings to 4% and the total debt in the currency to EUR420.7bn. As the global reserve currency, the greenback has strengthened since the outbreak of Covid-19, elevating the costs of borrowing and making it less attractive to issuers.
Submit your Deals Today:
CMD is a Collaborative Market Data Portal for Issuers, Dealers and Investors and is the only spot that reconciles all of issuer, dealer and investor - Money Market Fund - data. On a daily basis we receive submissions from issuers, dealers, clearing systems and stock exchanges. We also receive monthly submissions from Money Market Funds. All we need is a simple xls file with the following fields; ISIN, Issuer Name, FX, Amount, Trade Date, Settlement Date, Maturity Date, Security Type and if available, Dealer and Coupon. Your submissions will help build clarity and transparency in the market.